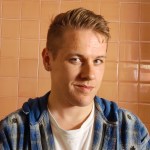 ……………………………………………………………………………………………………………………………..
I am currently a master's student at McGill University in Montréal, QC studying Music Technology. My research interests include audio signal processing, computational acoustics, and chaotic digital musical instruments. In particular, I am interested in microphone and speaker array processing for real-time sound spatialization and signal enhancement in augmented listening applications, especially for live electroacoustic performance. My thesis preprint is titled Performance Tradeoffs in HRTF Interpolation Algorithms for Object-Based Binaural Audio and is co-supervised by Professor Gary Scavone and Dr. Esteban Maestre Gomez. In 2019, I graduated from Oberlin College with a B.A. in Physics and minors in Computer Science and Mathematics. A copy of my CV is available.
Academic affiliations:
(current)
(former)
The purpose of this website is largely for me to teach myself about web design via HTML and CSS. If you're also looking to begin web design, I highly recommend starting with Jekyll and Github Pages. These are two incredibly powerful tools for generating professional-looking static sites.
This website is still very much under construction. I will be adding some of my projects and blog posts eventually, so check back soon if you are interested in that.
……………………………………………………………………………………………………………………………..
---